If you've seen one of the new FedEx vans around town, you've seen a Mercedes-Benz Sprinter most likely produced right here in the Charleston area, specifically on Palmetto Commerce Parkway in Ladson, South Carolina.
Mercedes-Benz Vans, LLC (MBV), previously known as Daimler Vans Manufacturing, had been producing Sprinters since October 2006 under the Freightliner and Dodge brands, until the launch of the new Mercedes-Benz brand of Sprinter replaced the Dodge line in January 2010. As momentum of this new product line increased, Daimler executives began looking to the Mercedes-Benz Vans facility in Charleston as the forefront for expanding the Mercedes-Benz vans product offering across the United States.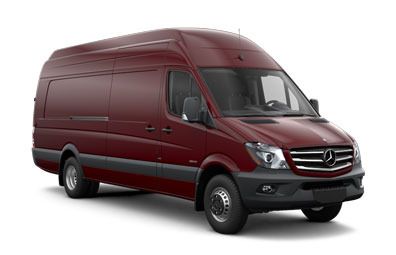 All vans built until this point were produced through what is known in the automotive industry as "semi-knocked-down" assembly process, meaning that the vans were fully assembled in a European Daimler van plant, partially disassembled for shipping, and then received and re-assembled in the MBV Charleston facility. To date, MBV Charleston has re-assembled more than 130,000 vans since 2006 and the United States has become the second largest market for these vehicles worldwide.
In March 2015, Daimler officially shared the news that the existing Mercedes-Benz Vans re-assembly operation will be expanded, in addition to the creation of a brand new paint and body shop for the original assembly of Sprinter vans. This massive expansion will significantly increase the physical footprint of the MBV Charleston facility and add 1,300 team members by the end of this decade.
"Without a doubt, Mercedes-Benz Vans, LLC has been chosen by Daimler as the site for this expansion due to the successful foundation established here since 2006," said interim CEO Fabio Bela. "At our Charleston facility, we have a dedicated team that is growing almost daily."
As the location grows, what remains a constant is Mercedes-Benz Vans' involvement in the local community. MBV has supported several initiatives across the Charleston area, from donating technology supplies to Ladson Elementary School to supporting the 2016 Cooper River Bridge Run and many community projects to come.
"We have always sought opportunities to support the community around us," Bela said. "Mercedes-Benz Vans is excited to do that on an even larger scale as we expand. It's a win-win!"
In addition to donations and sponsorship of community events by MBV, the facility's recruiting team can often be spotted at local events, including Second Sunday on King Street and local job fairs. MBV is currently seeking specialists in information technology, logistics, quality assurance and more. Hiring for manufacturing positions will begin in early 2017.
More information about upcoming career opportunities with Mercedes-Benz Vans, LLC can be found at www.readysc.org/mercedes.