SCE&G is working for South Carolina helping to build a clean, reliable energy future for our people, positioning South Carolina as a leader in the energy industry, fueling substantial economic development and creating jobs for a homegrown workforce.
For example, SCE&G's efforts to build two new nuclear-powered electric generating units near Jenkinsville have created more than 3,500 construction-related jobs, most of which are held by South Carolina residents. The new units are expected to create about 800 permanent positions.
SCE&G has partnered with numerous South Carolina colleges and universities to develop nuclear-related academic and technical training programs that will continue to build a highly skilled workforce in our state.
Along with providing South Carolina homes and businesses with the most reliable source of "base load" electricity available in America today, these non-carbon-emitting nuclear units will help improve air quality in our state, reducing power-plant greenhouse gas emissions by more than 20 percent.
South Carolina also is benefitting from SCE&G's focus on renewable power. The company recently unveiled the first utility-scale solar facility on its system under South Carolina's Distributed Energy Resource Program Act, and is working to develop additional solar capacity, with a goal of adding 84 megawatts of solar power to its system by 2020.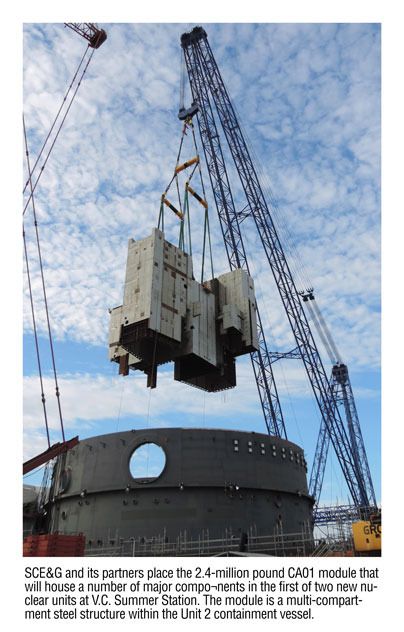 With the addition of that solar power, and completion of the new nuclear units, SCE&G's electric generation portfolio will be about 60 percent non-greenhouse-gas emitting. Already the company has retired of some its coal-fired units. SCE&G anticipates that its generation portfolio will be about 30 percent nuclear, 30 percent natural gas and 30 percent scrubbed coal, with the balance in hydro and renewable forms of energy, giving the company flexibility to take advantage of whatever generation option makes economic sense for its customers at any given point in time.
The best strategy for effectively meeting customers' energy needs is to have a balanced generation portfolio that includes a diversity of power sources. That is SCE&G's strategy. That is working for South Carolina.