Since opening in 2000, the South Carolina Aquarium's mission has been tied to education, conservation and inspiration. Sixteen years later, the organization leads the way in connecting people with water, wildlife and wild places through the exhibition and care of animals, education and research programs, and an exceptional guest experience.
The Aquarium is home to more than 5,000 amazing animals including river otters, a bald eagle, a rare albino alligator, herons, eels, seahorses, jellyfish, stingrays, horseshoe crabs, sharks and a 225-pound loggerhead sea turtle.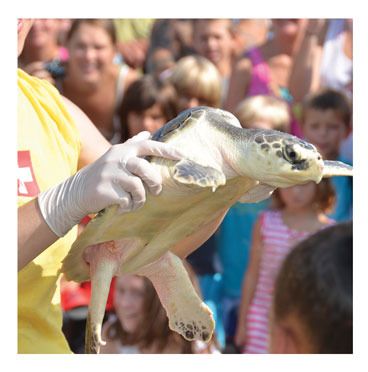 Sea turtles are some of South Carolina's most beloved ocean creatures. Recognized as the state reptile, the loggerhead sea turtle is as much as a part of Charleston culture as plantations and sweetgrass baskets. The Aquarium has been instrumental in celebrating sea turtles while also transforming the rehabilitation of these majestic ocean creatures.
Since the Aquarium began its Sea Turtle Rescue Program 16 years ago, it has rehabilitated and released more than 180 sick and injured sea turtles. But 2015 was especially remarkable, as the program admitted a record number of sea turtles.
May and June, the start of sea turtle nesting season, are busy months for the hospital. Previously, the most strandings that the hospital admitted in a month was six turtles in June 2013. In May 2015 alone, 11 new sea turtles were admitted to the hospital.
Most of those new patients were loggerheads weighing 60 to 125 pounds with poor body conditions and carrying a large number of small marine animals like barnacles, tube worms, skeleton shrimp and crabs. Turtles in such poor health need 2 to 10 months to fully recover. With the increased number of sick turtles and their lengthy hospital stays, the Sea Turtle Hospital found itself at capacity and even had to find temporary holding tanks.
To accommodate turtles during record stranding seasons such as last year's, the Aquarium is planning a hospital expansion in 2017 with educational experiences throughout the exhibit that showcase the plight of sea turtles. The expansion will enable an increase in the number of turtles that can receive care and will boast additional holding tanks. An enrichment and exercise pool will be a marquee addition to help prepare the sea turtles for their release.
"Guests love to visit the Aquarium's Sea Turtle Hospital. The behind-the-scenes tours provide a way for guests to connect with these charismatic animals," said Kelly Thorvalson, South Carolina Aquarium Sea Turtle Rescue program manager. "The turtles are not only gentle and inspiring, but are also fighting for their own survival and that of their species. These connections are vital to helping guests understand the greater need for ocean conservation."
To learn more about how you can support the Sea Turtle Hospital expansion or any of the Aquarium's programs, visit scaquarium.org .