Lee County and Sumter County South Carolina have formed TheLINK; a powerful economic development partnership that offers a new region of opportunity and an avenue to global success. With an expansive inventory of diverse business and industrial sites and available buildings, TheLINK provides an operational home that covers all your needs, location and logistical resources, utilities and more.
TheLINK region offers value in every respect: strategic resources for business, roots and strength for families, and outstanding choice in settings, from serenity of true small town life to the ease and amenities of a larger city. Even better, you can choose your location with confidence, knowing you and your family will enjoy excellent schools, welcoming communities, and an uncommonly inviting quality of life.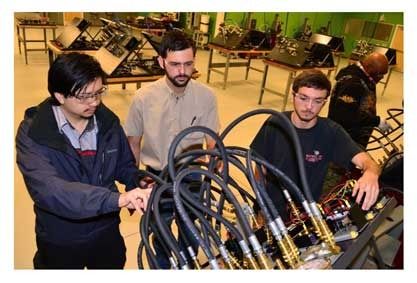 The Region's most important asset is its people. One example of how our state and federal partnerships are fueling success is the state-of-the-art Advanced Manufacturing Technology Training Center (AMTTC) at Central Carolina Technical College.
Through the AMTTC's Workforce Readiness Programs in collaboration with ReadySC, one of the nation's oldest and most successful training programs, we prepare the regional workforce of the future. In this 104,000 square-foot facility, both traditional and continuing education students work with the most progressive mechatronics, industrial preparation modules, innovative tools and devices available, along with experiential learning to reach new heights of job-readiness.
Within the training center is the Caterpillar® Simulated Work Environment (SWE), which teaches lean manufacturing on a replicated assembly line. Participants use functional tools such as workload balancing, problem solving and performance measurement, at 17 workstations. The facility went
online in August 2015. Because of facilities such as the AMTTC and other robust partnerships forged, our labor force of more than 55,000 qualified individuals stays sharp and stands at-the-ready.


TheLINK Region has a long-established history of business excellence. This Region specializes in manufacturing as evidenced by not only the heightened level of success experienced by companies with operations established here, but also the higher than average percentage of people employed in manufacturing when compared to the state or even the nation. We are home to several international companies such as Continental Tire (Germany), OMSK (Russia) and EMS-Chemie (Switzerland)—well known conglomerates that recognize the assets outlined in this region and the many advantages of growing business here:
The cost of living and doing business in TheLINK region is well below the U.S. average. With competitive wages as well as low housing, healthcare and transportation costs
Our seriously pro-business leadership understands it must maintain a business-friendly climate where companies can succeed.
Our people have an excellent work ethic, are highly trainable, and have access to first-class, award-winning worker training programs at the state and local levels.
We are TheLINK . Connect with us today to learn why TheLINK Region is just right for your business.