Boeing South Carolina continues to be an expanding presence in the Charleston region, with more than 7,500 teammates performing some of the most technically advanced work in the aerospace industry. Boeing South Carolina teammates fabricate, assemble and deliver the 787 Dreamliner; support the C-17 at Joint Base Charleston, design and produce components for the 737 MAX and 777X; and develop cutting edge engineering and technology innovations that will help drive the future of flight.
Boeing South Carolina's roots trace back to 1993 when Charleston became the first operating base for the C-17. The company's commercial airplane operations started in 2004 as two companies supplying structure to the 787 Dreamliner program: Vought Aircraft Industries, Charleston Operations; and Global Aeronautica LLC. Over time Boeing purchased interests in both companies, creating a full Boeing site in 2010.
In addition to the existing operations, Boeing selected the North Charleston site in October 2009 for a new 787 Dreamliner final assembly and delivery line. Boeing South Carolina rolled out its first 787 on April 27, 2012 and made its first delivery to Air India in October of that year. Fast forward to the present, Boeing has celebrated the delivery of the 100th 787 to be assembled in South Carolina. That airplane became the 14th 787 to join American Airlines' fleet.


The business' achievements to-date are rooted in the belief that success happens through teamwork; listening to each other; respectfully sharing thoughts, ideas and concerns; and then taking action for positive change. Boeing believes that is the right approach for its South Carolina operations.
At the company's 743-acre North Charleston main campus near the Charleston International Airport, teammates fabricate, assemble and install systems for aft (rear) fuselage sections of the Boeing 787 Dreamliner, and join and integrate midbody (middle) fuselage sections arriving from Japan and Italy via Dreamlifters, a fleet of specially modified 747-400s.
Completed aftbody and midbody sections are moved across the campus to the 1.2 million square-foot final assembly building, or delivered to final assembly in Everett, Wash., via a Dreamlifter. Boeing South Carolina is one of only three facilities in the world that assemble and delivery twin-aisle commercial airplanes.
In 2014, Boeing announced that the 787-10, the newest and longest variant of the 787 family, would be built exclusively in South Carolina. The 787-10 is the third member of the 787 family. Both the 787-8 and 787-9 are already being built in South Carolina and Everett, Wash. A new decorative paint facility, large enough to paint two fully assembled 787-10s, is under construction at the North Charleston main campus and will be completed in late 2016.
The Information Technology (IT) Center South Carolina and the Engineering Design Center South Carolina were established at main campus in 2013. The IT Center provides world-class IT services to the Boeing enterprise, and the Engineering Design Center supports Boeing's business from product development through design, production and support.
Boeing South Carolina's 141-acre north campus operations in the Palmetto Commerce Industrial Park feature three additional facilities: the Interiors Responsibility Center South Carolina, Propulsion South Carolina and Boeing Research & Technology-South Carolina.
At the Interiors Responsibility Center South Carolina, teammates manufacture 787 interior components for all 787s assembled in South Carolina. These components include stow bins, closets, partitions, class dividers, ceiling panels, floor-mounted stow bins used by flight attendants, overhead flight-crew rests, overhead flight attendant crew rests, video-control stations and attendant modules for all 787s assembled in South Carolina.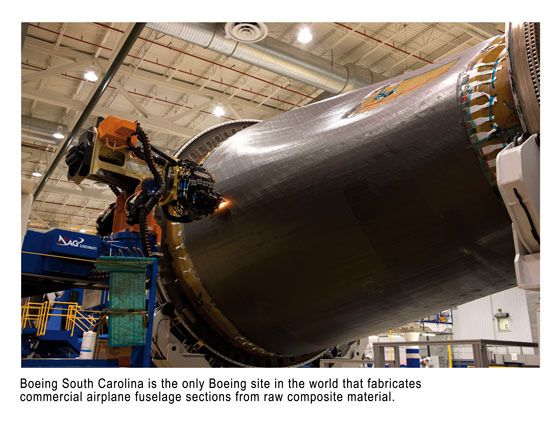 In 2015, the north campus expanded with the opening of the Boeing Research & Technology Center-South Carolina, focusing on advanced manufacturing technology and composite fuselage manufacturing; and Propulsion South Carolina, where the design and assembly of the 737 MAX engine nacelle inlet, and design of the 737 MAX engine nacelle fan cowl and the 777X nacelle takes place.
Boeing believes that success is about more than growth and meeting its commitments to airplane partners all over the world. The company also believes that part of its responsibility is to take an active role in nurturing the communities it calls home. Since 2009, Boeing has invested more than $25 million in South Carolina nonprofits. The company's five focus areas for community investment are education, arts and culture, health and human services, civic and environment.
Boeing South Carolina teammates have also taken community investment to heart, donating more than $700,000 of their own money to Charleston-area nonprofits since 2011 through the company's Employees Community Fund. Boeing teammates are personally invested as well, volunteering nearly 7,000 times for more than 200 community projects over the same period of time.
Responsible corporate citizenship through conservation is another key priority. In 2011, Boeing partnered with South Carolina Electric & Gas to become the company's first 100 percent renewable energy facility. A major component of that partnership is a 10-acre solar power generation system installed on the roof of the final assembly building. At the time of completion it was the largest such installation in South Carolina, and one of the 10 largest in the Southeast.
Boeing South Carolina also became the company's first major commercial airplane manufacturing site to achieve zero waste to landfill status in 2011. Nothing from any Boeing South Carolina operations is transported to landfill for disposal. Materials are recycled, reused or sent to energy recovery facilities.
A transformational wetlands mitigation partnership between Boeing and several local, state and federal agencies and conservation groups was announced in 2014 that will protect 4,000 acres – and nearly 2,000 acres of undisturbed wetlands – near the Francis Marion National Forest in South Carolina. This plan was part of the permitting process for 468 acres of land in North Charleston that Boeing announced in 2013 it would lease from the State of South Carolina to protect for potential future growth.