More than a decade ago, Johnny Evans read the business book, "Good to Great" by Jim Collins. That book – and others Evans read – pointed to one common principle for success: focus on what your business can do best.


At the time, CF Evans Construction was building everything – industrial buildings, banks, schools, multifamily projects – until Evans, president and CEO, decided to follow the advice in the books.
"We decided to focus on multifamily and not do any other work," he said. "It's been the best decision we've made."
Establishing a construction niche has allowed CF Evans Construction to hone in on the best practices for building high-quality multifamily housing. "We try to have the same quality and do the same things on all projects so we can maintain a high standard in the apartment industry," Evans said.
The switch also helped CF Evans weather the recession. "We went into the recession and hunkered down, focused on our processes, our story, and the quality we could provide even in the tough times," said Janet Bates, director of marketing. "We came out on the other side stronger."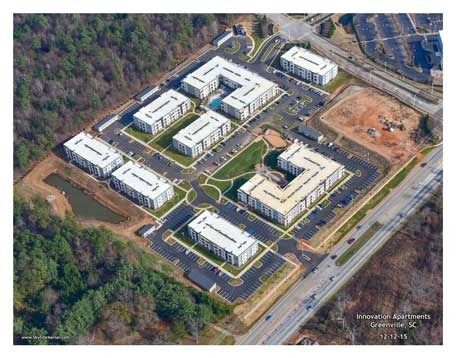 Although headquartered in Orangeburg, the company works on projects throughout the Southeast, including Charleston, Raleigh, Greenville, Charlotte and as far north as Lynchburg, Va. Most are new apartment developments, and some include townhomes and other multifamily concepts – a nod to the growing industry. The company also renovates older developments that are looking to compete with new projects coming online.
The mindset around multifamily living has really changed since the recession, Evans said. The younger generation saw what their parents went through so they are less inclined to own a home and prefer to be more mobile. The baby boomer generation is downsizing but still expects high quality and comfortable surroundings.
It's further proof that Evans made the right decision all those years ago.
A third-generation family owned company, CF Evans Construction truly lives out its marketing tagline: "We build it like it's ours."


"We keep to the schedule and work to remain under budget as if we were the investors on the project," Bates said. "Our employees keep safety and quality top of mind as if our own families are going to be living there, and we work to ensure everyone on our jobsites goes home at the end of the day."
That environment also extends to the workplace where the company leadership is committed to work/life balance, training and development, and providing a safe environment.
"We have a wide open door policy," Bates said. "The leadership team wants to hear from employees about what's going on from their perspective and we want their suggestions on how to improve. It's a collaborative environment."
Evans added, "I think we've been doing a good job of maintaining the way people feel about the company and ensuring our core values are reflected in everything we do. Company culture can be hard to maintain when a company grows, but we have a truly good, caring, dedicated group of employees who work hard to help us achieve our goals."