In 1927, Myron B. Kahn put down roots in South Carolina, nurturing a dream that has grown into the largest privately owned construction company in the Palmetto State. Still family-owned, M. B. Kahn Construction Co. Inc. continues to thrive – building in industries as diverse as manufacturing, distribution, health care, education and wastewater treatment.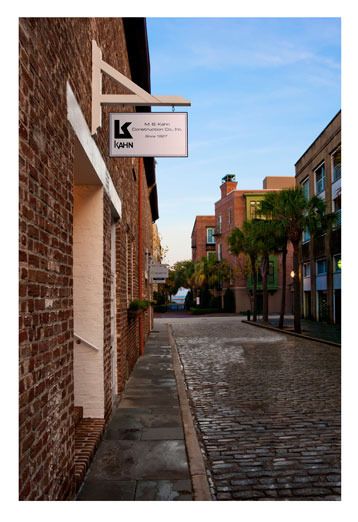 Headquartered in Columbia, South Carolina, M. B. Kahn has offices in Greenville and Charleston, as well as in North Carolina, Georgia and Virginia. The company also works in Florida, Arkansas and Alabama. Among its more than 400 employees, at least 140 have been with M.B. Kahn for more than a decade.
"We've been around a long time because of the quality of our work. We've had many repeat clients over the years," said Executive Vice President Scott Appleton, pointing out that M. B. Kahn has been building continuously in the Charleston area since the 1950s.
The company opened its Charleston office in November 2013. According to Appleton, "We wanted an office from which our local project managers and superintendents could work, but, more importantly, we wanted a permanent Charleston address to provide an anchor spot within the community, to better serve our existing clients and to develop new relationships going forward."
He cited the wide range of projects that M. B. Kahn has completed throughout South Carolina, including:
The Medical University of South Carolina Ashley River Tower – The 580,000-square-foot building in Charleston includes an intensive care unit, operating rooms, laboratories, radiology and endoscopy suites, and a chest pain center.
The Charleston County Detention Center Expansion – The North Charleston facility was expanded by 323,000 square feet, adding 1,344 beds, a kitchen, laundry, medical clinic and administration areas.
Myrtle Beach International Airport – This 240,000-square foot project provided more space for the lobby and waiting areas, shops, restaurants and departure gates, as well as 18 check-in kiosks, enhanced baggage handling and a rental car facility.
SCE&G Virgil C. Summer Nuclear Operations Building – This project at the Jenkinsville, South Carolina, nuclear generating plant added offices, a fitness center, dining facilities and an emergency operations center.
GE Advanced Manufacturing Works Facility – This 132,400-square-foot project in Greenville included a two-story customer experience center and manufacturing space to accommodate cutting-edge technology.
M.B. Kahn's work has not gone unnoticed by Engineering News-Record, which awarded the company several accolades, including Top Contractor in South Carolina in 2012 and 2013.
Regardless of how successful M. B. Kahn has become in the past 89 years, its owners, executives and employees haven't forgotten about the communities it serves. Through the M. B. Kahn Foundation, the company has significantly supported many worthwhile organizations, such as the American Heart Association, Boy Scouts of America and The Urban League, just to name a few. It also participates in food drives for Harvest Hope Food Bank, sponsors children at Carolina Children's Home and Epworth Children's Home, and helps repair homes for the needy through Home Works, Inc.
"The company truly believes in building communities in every way possible," said M.B. Kahn representative Chuck Saylors.